---
DIRECTOR'S REPORT (MAY '11): Summer 2011 Service Announcements
---
Dear Members,
In this announcement we will cover:
Service Stability Review
"Framework 2.0" Changes
New Webmail Progress
New Spam Filters
---
Service Stability Review
As many of you will remember, early last year we experienced a major outage. This was not an experience we ever wished to repeat, so we did a full scale failure point review and invested heavily to eliminate as many single points of failure as possible.
For those with a technical interest
We found an incompatibility issue between the RAID card we were using and the specific hard disk versions. This required us to use the SATA1 protocol rather than the SATA2 even though both devices supported it. Ultimately this makes no real difference to performance as the SATA1 link is not being saturated by our disk throughput. This change was made in January 2011. The second reason was to do with the interaction between mailman (mailing list service), postfix and NFS. The problem was that as time progressed the amount of nfsd4_stateowners increased, slowly reducing the amount of available memory. Additionally the memory used by filesystem inode handles would decrease until none were left and no files could be opened. The system would then crash at this point. Since mailman was not actually in active public use, we removed this service in mid April 2011 and have not had this problem occur since. This single issue was responsible for at least 6 incidents over the last 5-6 months.
With these problems solved we are confident that we will maintain a decent level of uptime. Where things do go wrong we will continue to react quickly to solve them and investigate how to prevent them from happening again. We are also continuing to monitor our capacity and load and plan for expansion as thousands of new graduates join our service each year.
Whilst most of the new hardware was in place by the end of last summer, the complex task of migrating all systems into it has taken a long time. We are about 95% of the way there now with the last systems due to be migrated this month.
On the positive side we appear to have not suffered from any further power or network failures. All of our systems are fed by dual power and network supplies and these have proved to be 100% reliable thus far.
We have unfortunately experienced some issues that did affect service stability on a number of occasions. Virtually ALL of these have been to do with our storage layer, the machines that actually hold your email data. It took several months of investigation to identify the two rather obscure causes and we are happy to report that we have now corrected them.
"Framework 2.0" Changes
Our systems run on a software platform that manages all aspects of the service we provide. We call this the 'Framework'. It was originally written in 2005 but is now starting to limit the improvements which we wish to make to the service. This was one of the reasons that New Webmail has taken such a long time to be released. We took the decision to finally upgrade this platform and have spent the past few months updating the entire underlying software infrastructure of our service.
Whilst there has been a huge amount of internal optimisation which will be invisible to you, there will be some visible changes which you should understand:
Service Migration
We will be migrating university services across to Framework 2.0 one by one over the coming weeks. For most services this will be near-instantaneous, however, if we need to arrange a short transition period this will be announced in the normal way on the website service news. Please do keep an eye out for this. Once you have been migrated you will notice the above changes, however, there will be NO DIFFERENCE IN THE WAY YOU ACCESS YOUR EMAIL ACCOUNT which will operate as normal.

Your Aluminati Account vs Your Email Account

Originally all 'accounts' on our service were email accounts. We now have user accounts with each user owning one or more products. For example, email is one product, webhosting is another. This enables us to give you the flexibility to manage more complex services all within one account.

Unified Login

Rather than having to perform one login for Webmail, another for billing and another for FTP access you now have to do this only once to move between all parts of the site. In fact you can even move between two different email accounts using the same login.

Improved Account Management and Billing System

We have made it easier for you to understand what you are paying for, when renewals are due, what extras you have chosen and view your entire account history. Billing pages have been revamped to make the checkout process easier. We will be enabling auto-renewal of services and credit card expiry reminders in due course.

Customise your Account with Bolt-ons

Our new system allows us to offer some bolt-ons to your account such as purchasing POP or IMAP access for your Webmail account. We also now offer a powerful 'double your storage' option which does exactly that for just £5.

Better Web Based FTP Access

You are now able to manage your web site through a much improved web based FTP service which allows you to transfer your files into your online space. This replaces the rather archaic system we had before.

Website Help Improvement

We have tried to make it easier to find the information you need on our website and have combined our FAQs and Help Article sections into a single unified Help page which allows you to search through existing articles or request new articles be written about certain topics. Further interactive functions are due to be added at a later date including a real-time emergency instant messaging service.
New Webmail Update
As mentioned above, new webmail development hit a wall when we came up against the limitations of Framework 1.0. Once Framework 2.0 is properly bedded in, we will begin development again in earnest. This will be our #1 service improvement priority at this point. We do apologise for it taking this long and are committed to bringing the new interface live as soon as possible. We are very grateful for all the people who have volunteered to be our beta testers and will be in touch with you when the time is appropriate. We aim to release a fully 'email-functioning' interface first, giving full email access but without the surrounding functions such as calendars, votes etc.
New Spam Filters
Our old spam filters are being replaced. Having previously purchased 'commercial off the shelf' servers for spam filtering, we realised we would have much more flexibility and power by engineering our own solution. This new solution is currently being tested with our own email accounts to ensure reliability. We are building the user interface which will allow you to set specific spam filtering levels (e.g. Low, Standard, High, Strict) as well as control your white and blacklists. Greylisting, a special anti-spam technique, will still be available as well. The new spam servers will give us huge visibility of all email traffic and will, in due course, even allow you to check your blocked email and redeliver any recent email incorrectly blocked, or even an email you accidently deleted.
Thank You
As ever, thank you for your patience whilst we roll out these improvements to your service. We are working hard to deliver the service you expect and have a long list of additional improvements we are working through and these will be announced as and when they are launched.
With best wishes,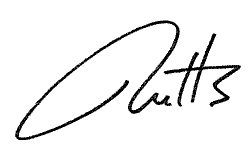 Daniel Watts
Managing Director